Discover Antalya and Alanya
Antalya, known as the pearl of the Mediterranean, is one of the most popular destinations in Turkey
Antalya - stunning beaches, hot summers and luxurious hotels…
This popular holiday destination features impressive deluxe hotels, fabulous beaches, plenty of historical attractions to explore and perfect summer weather.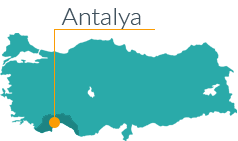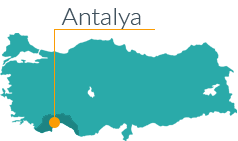 Holidays in Antalya, Turkey
Antalya is Turkey's biggest international sea resort, located on the Turquoise coast in south-western Turkey.  It is a very popular holiday destination and thanks to the nearby Taurus Mountains, Antalya enjoys amazing weather, receiving around 300 days of sunshine a year. Antalya weather varies from around 26C – 31C between May and September peaking at around 34C, to mild winters with December and January temperatures averaging between 6C – 15C. The weather in Antalya, Turkey is certainly a big factor in why it is so popular with holidaymakers.  
The areas surrounding Antalya are spectacular, particularly so because of their natural beauty. From the picturesque Duden and Kurşunlu waterfalls to the 540km long hiking trail of Lycian Way, or the long sandy beaches of Konyaalti beach to the west and Lara beach to the east, there is always somewhere to relax, get closer to nature and take in the landscape. Some other notable urban parks and protected areas around Antalya include; Antalya City Forest, Kepez City Forest, Koprulu Canyon National Park, and Güllük Mountain National Park.
If you are looking for fun and adventure, you will not be disappointed. There's plenty of things to do around Antalya, including 3 water parks at Lara and Konyaalti beaches, as well as a purpose-built aqua park at Beachpark open only during the summertime. You can experience white water rafting on the Koprulu River (around 90km away), ski during the winter at Saklıkent, or head to Beydağları for watersports. If nightlife is what you are looking for, then head to Kemer, which hosts some superclubs such as Aura Club and Club Inferno. Side also has some great nightlife, as does the Antalya town marina, with plenty of bars and pubs to keep you entertained.
Antalya actually holds the world record for having the most number of Blue Flag beaches - currently an impressive 203 beaches, with Patara Beach on the outskirts of Antalya being the longest in the country! Some other great beaches nearby include; Örnekköy, Kaputas and Mermerli near Antalya and Cleopatra Beach or Damlataş Beach in neighbouring Alanya.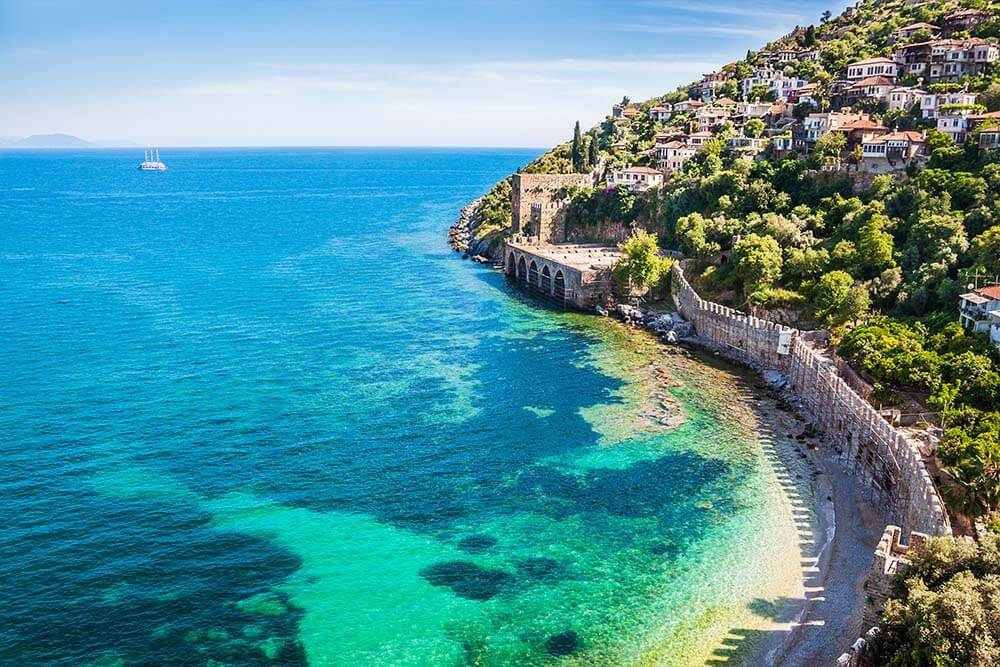 Things to Do in Antalya…
It's easy to get around in Antalya with its network of buses, dolmuş' and trams. Make sure you see the historic city centre of Kaleici with its narrow streets, bazaars and picturesque old houses. Take a walk through the famous Hadrian's Gate to get into the city and see the castle gate of Kalekapısı whilst you are there. Visit the Hıdırlık Tower and have a rest in one of the restaurants underneath for some great views. The nearby Antalya museum offers an opportunity to delve into the rich history of the area and has many interesting artefacts and some incredible statues, and you can grab some great bargains at the Antalya Bazaar. Great for the kids, Antalya Aquarium holds the world's biggest tunnel aquarium and you can swim with sharks and rays. If you like golf, then there's some great golf courses in the nearby town of Belek, known as the Golf Riviera of Turkey, with over 20 quality golf courses to choose from. With all this to do and more, it's easy to see why Antalya is one of Turkey's most popular holiday destinations!