Discover Dalaman, Fethiye & Olu Deniz
A holiday along the Turquoise Coast offers plenty of amazing beaches to discover, historical sites and great nightlife.
The Turkish Riviera - long white sandy beaches & perfect weather combine...
Discover all that the southwestern coast of Turkey has to offer, including world-class marinas, ancient castles, blue lagoons and some of the best beaches in the Mediterranean.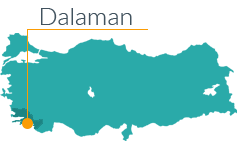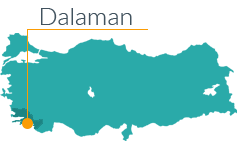 Turquoise Coast Holidays in Turkey
The Turkish Riviera offers holidaymakers perfect weather for most of the year with long dry summers and mild short winters. Average temperatures in the summer are around 34C, with the mild winter temperatures averaging 15C. Dalaman is a great base to start your Turkish adventures, as a flight here from the UK is direct and straightforward. Dalaman is home to some lovely sandy beaches, including the stunning Sarsala Koyu Beach and the secluded cove of Kaputas Beach which is reached by steps down to the sand.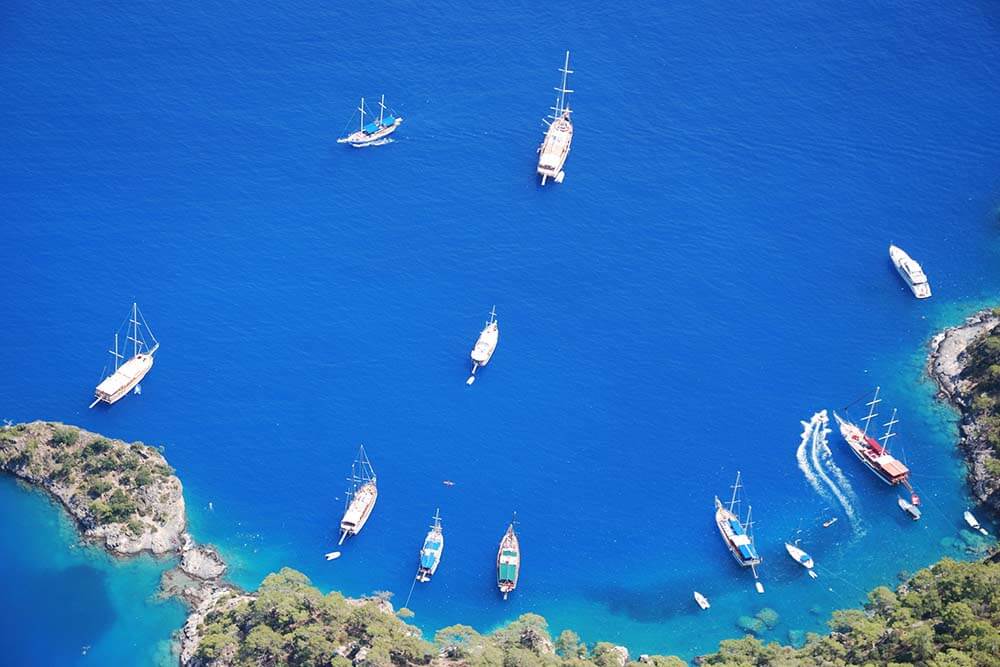 Things to Do Around Dalaman...
Dalyan Day Trip
1-Discover ancient King's Tombs and sandy turtle-nesting beaches.
2-Rejuvenate in age-defying mud baths and cruise the reed-lined river.
İztuzu Beach
1-Lounge on 4 miles of golden sand and witness nesting loggerhead turtles.
2-Take a scenic boat trip down Dalyan Canal for an unforgettable journey.
Lycian Rock Tombs
Admire the 2,000-year-old Lycian Rock Tombs on the way to İztuzu Beach.
Pamukkale Day Trip
1-Venture from Dalaman to Pamukkale's "cotton castle" landscape.
2-Experience the surreal thermal waters flowing down mountains.
Explore Dalaman with Turkey Paradise
Amazing Turkey Holidays
Explore Turkey's beloved destinations that showcase its allure. From the tranquil beaches of Oludeniz to the hidden gems of Fethiye and the unspoiled beauty of Dalaman, Turkey welcomes you with a rich tapestry of experiences. Whether you're seeking family adventures or romantic getaways, the exceptional fusion of Turkish wonders will undoubtedly give you cherished memories.
Turkey Paradise Holidays
Turkey Paradise has welcomed thousands of travellers over the last 30 years. We are fully ATOL protected, to ensure your holiday is completely secure financially for your peace of mind. We make it our goal to exceed the expectations of everyone who travels with us – you can book holidays to Turkey with Turkey Paradise in the knowledge that you are in the best possible hands.
Hotels in Turkey
Experience Turkish warmth and hospitality at its finest with our handpicked selection of hotels across Turkey. From opulent 5-star beachfront resorts to charming boutique hideaways, our range of accommodations caters to every traveler's desire. Immerse yourself in luxurious amenities, indulge in authentic local cuisine, and wake up to stunning vistas that vary from picturesque coastlines to historic cityscapes.
Amazing Dalaman Holidays
Explore the unspoiled charm of Dalaman, where untouched landscapes beckon adventure and relaxation. Dive into the rejuvenating Dalyan mud baths and let history whisper through the ancient Lycian Rock Tombs. Embrace the stunning shores and coves, offering a gateway to turquoise perfection. Hike the lush Akkaya Valley or immerse in Göcek's timeless allure. Dalaman is more than a destination; it's an authentic journey waiting for you.
Turkey Paradise Holidays
With a legacy of over 30 years, Turkey Paradise Holidays is your trusted partner in discovering the wonders of Dalaman. As an ATOL-protected operator, we prioritise your financial security. Our commitment is to exceed expectations and make your journey with us a truly exceptional one. When you choose Turkey Paradise, you're not just embarking on a holiday – you're beginning a cherished chapter in your travel story.
Hotels in Dalaman
Embrace relaxation in lavish spa retreats, where indulgence meets tranquillity. For thrill-seekers, waterfront hotels provide easy access to aquatic adventures. Whether you're savouring local cuisine or enjoying stunning views, Dalaman's hotels promise a memorable stay that perfectly complements the charm of this Turkish gem. There are many popular hotels and resorts in Dalaman including Jiva Beach Resort and Club Tuana Fethiye.
Amazing Fethiye Holidays
Step into Fethiye's enchanting narrative as historical treasures, bustling markets, and the captivating Butterfly Valley unfold. Anchor your Turkish yacht voyage in this major hub. Wander through the Fethiye Museum and explore the Lycian marvel, Tomb of Amyntas. The ghost town of Kayaköy has held secrets since the 1920s. Haggling at the Tuesday market is a vibrant experience, and the tranquil Butterfly Valley offers solace amidst diverse butterfly species.
Turkey Paradise Holidays
Bringing a history spanning more than three decades, Turkey Paradise Holidays stands as your reliable companion for unveiling Fethiye's marvels. Operating under ATOL protection, we give utmost importance to your financial safety. Our promise is to surpass anticipations, ensuring your experience with us is nothing short of extraordinary. 
Hotels in Fethiye
While you uncover Fethiye's rich history and vibrant markets, our handpicked lodgings become your haven. Fethiye's hotels are more than places to rest; they are reflections of the destination's allure. Discover a diverse range of accommodations that harmonize with Fethiye's captivating landscapes.
Amazing Oludeniz Holidays
Oludeniz beckons with its iconic cove, nestled just 15km from Fethiye. Majestic Mt. Baba oversees this charming town, home to a famed lagoon, national park, and Blue Flag beach. Dive into the lagoon's crystal-clear waters, adorned in hues of turquoise and aquamarine. Hidden underwater caves and marine life await exploration. For the adventurous, tandem paragliding unveils panoramic views of Mt. Baba's forests and the azure lagoon. Oludeniz is a paradise where dreams meet reality.
Turkey Paradise Holidays
With a history spanning beyond three decades, Turkey Paradise Holidays emerges as your steadfast guide to uncover the wonders of Oludeniz. Operating under the umbrella of ATOL protection, we prioritise your financial security. Our commitment extends beyond expectations, ensuring that your journey with us transcends the ordinary.
Hotels in Oludeniz
Oludeniz boasts a diverse spectrum of accommodations that cater to every taste. Whether you seek the comfort of a 4-star hotel or the opulence of 5-star beachfront resorts with direct access to the Blue Flag beach, Oludeniz accommodates all preferences. One of the best-selling hotels in the region is the Montebello Resort Hotel with top-notch facilities and stunning vistas.