Dalaman
Impressive luxury hidden Paradise nestled on the tranquil bays
Family Luxury Beach Holiday Mountain Retreat
Highly recommended by Turkey Paradise
Sitting pretty near Fethiye, D-Resort Göcek resort's got a distinctly Mediterranean flavour.  This beachfront resort has extensive wellness facilities, three restaurants serving a range of cuisine and its own marina where sleek yachts bob in the turquoise water. 
Why Holiday Makers Love It
Amazing beach
Superb dinings
Modern furnishings rooms
Fantastic Staff
Exceptional service

Special Offers available

Special Offers available
D-Resort Gocek, located in Hidden Paradise of Mediterranean, Gocek has an impressive fund of fascinating mountain views, and the place is a great getaway situated in the fishing village today is known as yacht heaven so it is an ideal destination for relaxation, renew, organizing business meetings in an environment filled with peace or enjoying sailing and boating on the beautiful and tranquil bays.
It is situated a 2 minutes walk from the centre of a lovely seaside village and marina in Turkey's southwest coast. The busy market town of Fethiye is 29 km away and easily reached by public transport. Dalaman Airport is about 23 km away. This beach hotel is an ideal place for relaxation and unwinding and is also suitable for hosting business meetings or social functions. The air-conditioned hotel has beautifully manicured gardens and a sophisticated style. There are a number of room types to choose from, including the attic rooms which feature a gabled window. All units are furnished in light wood and have a fresh and contemporary design. The hotel has an outdoor swimming pool and access to a private beach. Loungers and parasols are laid out for guests to enjoy by the pool and on the sandy beach. Guests can also unwind in the sauna and pamper themselves with a massage treatment. 
Please note that some services and amenities may not be available during low season.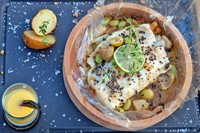 Enjoy your meal in the company of the waves
Boasting amazing cuisines, D Resort Gocek has three choices of restaurants. Olive Tree's restaurant situated in the main building serves an international menu at breakfast, lunch, and dinner. Q Lounge, a contemporary all-cedarwood Japanese restaurant on a hillside overlooking the beach; and the whitewashed, open-air Breeze by the sea, for meat specialties and freshly caught fish. Wine comes from the award-winning Likya Winery in the Taurus Mountains. Breakfast is a beautifully presented buffet of Turkish specialties – halva (a traditional confection), cheeses, bread and pastries, and about 20 different types of olives, as well as continental and numerous cooked options.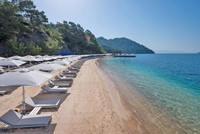 An amazingly soothing beach!
D Resort Gocek is open year-round and has its own marina, D-Marin, where sleek yachts bobbed serenely in the turquoise waters. A private, decked sunbathing area curves around the bay's shallows and white sand imported from Egypt covers the small quiet beach.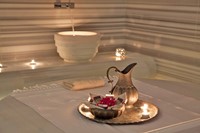 Holistic Indulgence
In order to relax, guests only have to walk into the fabulous D-Spa; a seafront wellness centre bathed by crystal clear waters and surrounded by gardens and mountains that must be seen to be believed. Amidst this tranquil scenery guests can enjoy tailored treatments and traditional rituals.
Where is the D-Resort Gocek?
D Resort Gocek is ideally situated on the edge of the pretty, low-key village of Gocek, Dalaman, in a striking bay just off the D400 state road. This informal hotel is 2 mins walk from the Mediterranean Sea. This resort is not too far from the City Center and normally takes about 31 mins to the Dalaman Airport (DLM).
31 mins drive to Dalaman International Airport (DLM)
9 mins walk to Gocek Marina
27 mins drive to Calis Beach